Hello, everyone !
I am
nene
from product development team.
I would like to provide you more information about Groove and Dolls etc. in the aspect of product development team!
The topic such as our dolls appearance on some street corners, inside stories regarding to development, our boss, mysterious
Mango Park
….
I hope you all enjoy and like.
The first memorable topic is
Lizbel
visited fashion show ! '
S-inc
., recoginized by famous apparel brand,
h. NAOTO
has other brand of
gouk.
Lizbel
visited there !
The venue was very cool restaurant at AOYAMA.
This is entrance.
Lizbel,
she was already exciting !
Oh my god !
S-inc., provides wonderful fashion show.
They are very unique way.
Look ! Lovely sweets and Japanese tea.
Lizbel
was feverd !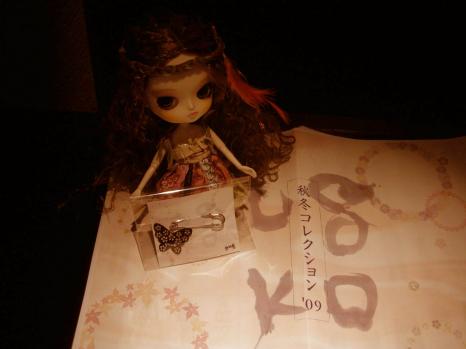 Together with their gift of charm. So cute !
A bit big for
Lizbel
?
Photos from the show.
They are really cool and beautiful !
Check Lizbel watches the show like crazy !
ne ne
and
Lizbel
were so happy through the entire show..
If you are interested in the brand, please visit to S-inc., website !
http://www.s-inc.com/
http://www.s-inc.com/gouk/
See you again !
nene